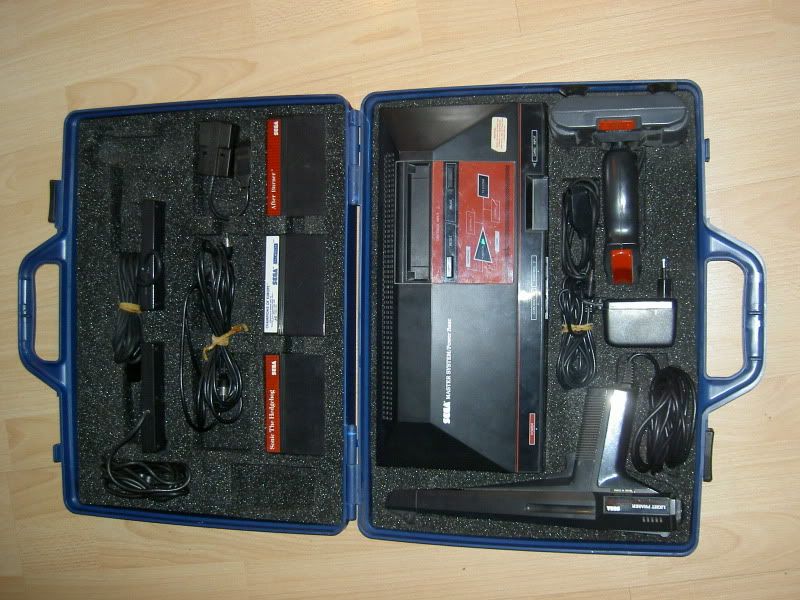 Sega Master System Ultra!! RARE version with suitcase! This is most likely an old rental unit.  It looks like some real thought went into plan the layout of this case.
Grootste Lego-Mario ter wereld 180 cm 40,000 bricks!  This 1.5 meter tall, 110 pound statue is for sale as the world's largest Lego Mario.  It's being sold as a fund-raiser for The Ronald McDonald House Charity in the Netherlands.
THE RAREST NINTENDO NECKLACE AND SHIRT POWERPLAY SAT. ! I doubt this is worth $2k, but it's simply a hilarious piece of video game history.  I'd love  to see photos of a person actually receiving this at a competition.
Loaner Atari Prototype Cartridges: Cookie Monster's Munch, Oscar, Raiders' of the Lost Ark, Star Raiders, Defender
Bill Gates signed Xbox from Launch Team 2001
And, not on eBay, but a great item for Vectrex lovers:
Vectrex Multi-Cart From GameGavel.com:  "It contains the entire Vectrex library less one title – AnimAction. Many of the recently programmed games are on it as well, including those written by John Dondzilla and others for a whopping total of 60 titles!  If you've been lucky enough to find a Vectrex console, you probably know how difficult it is to find it's games. The Vectrex multi-cart is the answer to all your Vectrex gaming needs!"
And, recently ended on eBay,
VECTREX 3D IMAGER and 3D MINESTORM VERY RARE (Sold on eBay for 650.78 GBP / ~$1063.34 USD on Oct. 26, 2009)
Vectrex Lightpen with Melody Master and Art Master (Sold on eBay for 125.00 GBP / ~$204.24 USD on Oct. 24, 2009)